Fall Bluegrass Festival 2010
The 8th Annual Mountain View Fall Bluegrass Festival is coming November 11, 12 and 13, 2010. The event will be hosted at the Ozark Folk Center Auditorium & Grounds in Mountain View, Arkansas. Rain Or Shine! Indoor and outdoor jamming areas!
Blue Highway – Sat

It is rare for a band to last for 15 years in any genre, even if it goes through various lineup changes. It is astonishing to keep the same five members throughout a career that has produced several IBMA awards (2008 IBMA Song of the Year winner "Through the Window of a Train" and two tracks from the 2004 Gospel Recorded Performance of the Year winner Wondrous Love are included here) and several SPBGMA awards. Blue Highway celebrates with a collection that sets classics like "Marbletown" alongside newer compositions such as "Cold and Lowdown Lonesome Blues." The new songs stack up admirably, and prove that, like good wine, some things just get better with time.
Paul Williams – Thurs & Fri
When you see or hear the name Paul Williams, the next thought will be of a quality person with a great voice and a smooth mandolin lick, using his talents to lift up the name of Jesus. Bluegrass fans love to hear great gospel tunes; however, if you want to feel bluegrass gospel, then Paul Williams and theVictory Trio are the real deal.
Paul's love for music and the Lord began at the early age of nine when his father bought him an "A" model Gibson mandolin to play in prayer meetings and church services. The love and dedication continue today with Paul and his great band traveling all over the country spreading the good news at churches, festivals and benefits.
Paul's legendary career began with The Lonesome Pine Fiddlers in the '50s; he then went on to become one of Jimmy Martin's Sunny Mountain Boys in the late '50s and early '60s. Paul did an extensive amount of song writing and recording during these years. Some of the songs he wrote during his time with Jimmy–"Don't Cry To Me," "Prayer Bells In Heaven," and "I Like To Hear Them Preach It" to name a few–are considered Bluegrass classics.
In August of 1963, Paul's life was changed forever when he found the most precious gift of Salvation. He retired from the Bluegrass circuits, but continued to write songs and play in churches and radio broadcasts for the next thirty-three years.
In 1995, Paul formed the Victory Trio and played in churches around Morristown, Tennessee, his hometown. While the group was an immediate regional success, it took four years and the proper breaks to achieve national recognition. The band's big break manifested itself as their second self-produced recording Old Ways & Old Pathswas re-released on Rebel Records and subsequently nominated for a Grammy in 2000 in the Best Southern, Country, or Bluegrass Gospel Album category.
Paul and The Victory Trio have continued to release great bluegrass gospel albums through Rebel Records. As a result of these projects and appearances, they have received many nominations for awards. In 2001, 2002 and 2003, the Society for the Preservation of Bluegrass Music (SPBGMA), and the International Bluegrass Music Association (IBMA) nominated the band for Bluegrass Group of the Year, Bluegrass Gospel-Traditional Group of the Year and Bluegrass Vocal Group of the Year respectively. In February 2007, the group captured SPBGMA's Bluegrass Gospel-Traditional Group of the Year.
Lost & Found – Fri
Lost and Found was Formed in 1973, the original lineup of the Lost & Found bluegrass band consisted of bass player Allen Mills, banjo player Gene Parker, mandolin player Dempsey Young and guitarist Roger Handy. The band became quite popular playing bluegrass festivals, with Mills' exceptional songwriting contributing much to the group's fame; "Love of the Mountains," recorded by the original lineup, has become a contemporary bluegrass standard. In addition to contemporary songs, the band also recorded more traditional fare, such as "The Man Who Wrote 'Home Sweet Home' Never Was a Married Man." Most of their albums feature similar material, and the band continues to be a strong positive force in contemporary bluegrass music. The band first recorded for Outlet Records in 1975, then achieved wider fame after it signed with Roanoke's Rebel Records in 1982.  By the mid-'90s, only Allen Mills and  DempseyYoung had stayed, recruiting guitarist Berry Berrier and banjo player Lynwood Lunsford as replacements. Through out the years Lost and Found has had many talented member of the band, including Ronnie Bowman, Shane Bartley, Greg Luck, Jody King, Ben Green along with others.  As of today, the band is  made up by Allen Mills on bass, Scottie Sparks on Guitar, Ronald Smith on banjo and newest member Scot Napier on Mandolin replacing the legendary Dempsey Young who passed away December 10, 2006.
Louisiana Grass – Fri
Hickory Hill – Fri & Sat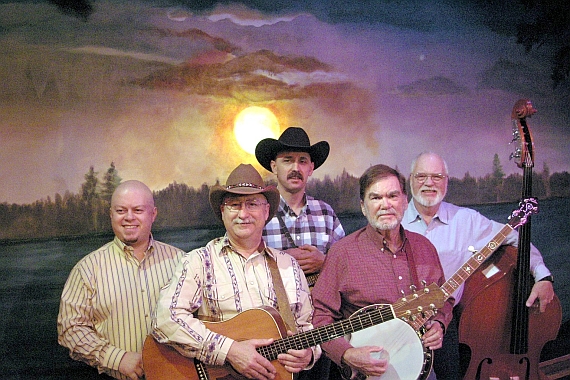 Celebrating their 30th anniversary in September, 2009, Hickory Hill has proven to be one of Texas' most popular and enduring acoustic groups. Through the years, the band has won considerable recognition, winning third place in the "Best New Band" contest at the Bluegrass Festival of the United States in Louisville, KY in 1981, and being nominated by SPBGMA as "Entertaining Bluegrass Band of the Year" in 1985 and "Bluegrass Band of the Year, Contemporary" in 1986. In 1993, Hickory Hill was named "Band Of The Year" by the Arts and Entertainment Committee of East Texas, and in 1996 was selected for a showcase performance at the International Bluegrass Music Association's annual World of Bluegrass in Owensboro, Kentucky. Hickory Hill has been the host band of the Overton Bluegrass Music Festival since the festival's inception in 1989.
Hickory Hill's first four albums, Coyote Night (1982), Special Historical Edition (1983), It's About Time (1985), and Reminiscin' (1990) received both critical acclaim and widespread acceptance from fans. In reviewing It's About Time, Ted Miller of the Bluegrass Newsletter said "…If all the albums produced sounded like this, bluegrass would be at the top of the record charts." In 1994, Hickory Hill signed with Turquoise Records of Whitesburg, Kentucky, to release a compilation of its first four albums. The resulting CD, entitled "The First Fifteen Years", received significant national and international attention and airplay. A Bluegrass, Canada reviewer described The First Fifteen Years as "…chock full of creative lyrics and instrumental high points." A review of the album in Dirty Linen said "Hickory Hill is a cross between Poco gone grass and a Dirt Band that bathes, with a splash of Bill Monroe…"
Hickory Hill's fifth recording, "Good Times Again", released in March, 1998, features original songs written by Jimmy Godwin, John Early, and Don Eaves. Two of the selections from Good Times Again, "Cadillac" and "Pecos Wind", which were released on Prime Cuts of Bluegrass, have received favorable reviews and frequent airplay by DJ's from coast to coast, as well as in Germany, France, The Netherlands, Australia, Estonia, and other international markets.
In January, 2000 Hickory Hill released it's first all-gospel recording entitled "Thank You Lord". This long awaited and requested project featured more original songs by the late Jimmy Godwin ("Lost and Found", "Red Roses", and "The Rock") and John Early ("Sharecropper's Prayer"). The CD stands as a testament to the faith that strengthens the band and it's will to persevere.
"Freedom" , the band's eighth recording released in the summer of 2002, contains more of the heartfelt original material that has become the band's trademark. Two of the last songs Jimmy Godwin shared with the group are featured along with four contributions penned by John Early.
Hickory Hill's ninth and most recent release came in 2006. "Old School" was the realization of a long held desire to record a traditional bluegrass CD. As on their previous recordings, they have included some original material. For this project, Wes Perry contributes his compositions "Old Red" and "Fly Like A Dove".
Hickory Hill includes John Early, guitar; Bob Stegall, bass; Wes Perry, mandolin; and Jake Jenkins, banjo and guitar. John sings most of the lead vocals, with Wes and Jake adding harmony vocals and occasional leads. Original member Don Eaves retired from the group at the end of 2009.  Original member Ronny Singley retired from traveling with the group in the spring of 2002 and occasionally joins the group at local venues. Original member Rolan Foster passed away in 1996. Long time friend Mike Tucker gracefully helps the band on mandolin when needed. According to the Bluegrass Newsletter, "Selectivity and tasteful arrangement are characteristic of Hickory Hill's repertoire." Variety is an important ingredient in Hickory Hill's performances. The band emphasizes original material, seldom heard "gems", or songs adapted from other styles of music. Original and classic gospel songs are some of the band's favorites. The late Jimmy Godwin, an outstanding musician, songwriter, and longtime friend of the band, who was a member of Hickory Hill from 1997-2000, composed many of Hickory Hill's most popular songs, including "The James Boys and Me", "Cadillac", "Pecos Wind", "Simple Love Song", "Lost and Found", and many more.
Hickory Hill has always been known for its warm personality and stage presence. Lee Kelly of the Longview Morning Journal wrote "…Together, they forge a sound like a drink of cold spring water, guaranteed to clear your head and wash away the taste of ashes." Bob Claypool of the Houston Chronicle said "…The next time Hickory Hill is in your town, go see them, you'll love them."
Blue Rain – Thur
Nothing Fancy – Sat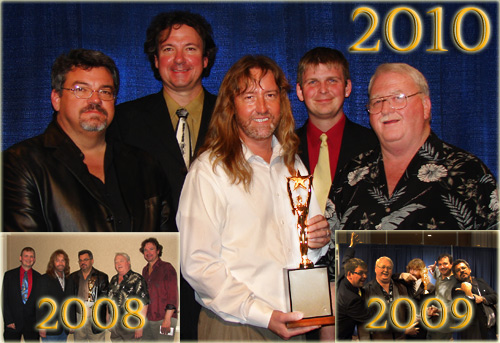 Nothin' Fancy
SPBGMA's 2009 Entertaining Group of the Year!
From the Shenandoah Valley in Virginia, comes one of the most entertaining bands in the bluegrass genre, Nothin' Fancy. As a matter of fact, they won SPBGMA's award for Entertaining Group of the Year two years in a row!
Nothin' Fancy was formed as a bluegrass band in 1994 to compete in the East Coast Bluegrass Championship in Crimora, Virginia.  After winning their auspicious debut, they have grown in popularity, released 8 full length albums and one CD single, played the Ryman Auditorium in Nashville, the Lincoln Center in New York City, and the Birchmere in Alexandria, Virginia.  They have successfully hosted their own Nothin' Fancy Bluegrass Festival every year since 2001 in Buena Vista Virginia.
Their relentless touring schedule of over 140 dates per year has earned them one of the most loyal fan bases in all of bluegrass music.  They are loved by festival-goers and bluegrass fans from the East to West Coast.
In 2002 Nothin' Fancy signed with Pinecastle Records, and quickly released their debut recording for the label entitled "Once Upon A Road."  This album earned them a showcase at the IBMA (International Bluegrass Music Association) Convention in October 2002 and a nomination for the IBMA Emerging Artist of the Year Award.  Their second release from Pinecastle, "Reflections," received innumerable accolades and proved that they are one of the new powerhouses in the genre.  Their 3rd Pinecastle project, "Album #7" continues to receive rave reviews from disc jockeys and fans alike.  Listening to the request of fans, Nothin' Fancy has just released their first gospel CD, "Lord Bless This House."  This album captures Nothin' Fancy's distinguished playing, vocal harmony, spirituality, and friendly charisma.
In 2009 and 2008, SPBMGA (Society for the Preservation of Bluegrass Music in America) honored Nothin' Fancy with the prestigious "Entertaining Group Of The Year" award.  The band was also nominated for SPBGMA's Vocal Group of the Year and each band member was nominated for individual awards as well. Their strong vocals, powerful instrumentation, and energetic stage presence, along with their friendly down-to-earth charm keeps people coming back for more.  Nothin' Fancy is not just carrying on the tradition of bluegrass music; they are contributing to the creation of a new tradition within the acoustic music genre.
The Keislers – Thur & Sat
Redmond and Randy, together with their long time friend Rodney Heslep, are bringing their God-given talents and showmanship, hallmarked by their tight sibling harmonies and crowd-pleasing entertainment, back to the stage.
The Keisler Brothers Appreciate their loyal, enthusiastic fans, who are thrilled to welcome them back to the Bluegrass stage. The brother's love for Bluegrass music, good Christian roots, and rural upbringing gives their music a natural flow and high energy that is evident in every performance. Whether they're playing a contemporary ballad, a traditional standard, multi-part gospel song or hard-driving, up-tempo tune, The Keisler Brothers Band always delivers something for everyone!
Link Family – Thur
From the Ozark Mountains of Missouri…The Link Family delivers a powerful performance with world class harmonies and hard driving instrumentals. The warmth and high energy of this multi-award-winning family band is inspiring.  They have toured across the United States and Canada, performing at Theaters, Festivals, Churches, Corporate Events, and much more. With Mom, Dad, Children and in-laws all singing, playing and entertaining together. Since 2001, the Link Family has entertained 10,000's of fans at 100's of venues across America and Canada each year. They have received 15 nominations and have won 7 awards from SPBGMA Midwest.They have recorded 11 CD projects and 1 concert video which have been successfully released on their own independent label and one cd and one video released on the Life Line label.
Posey Hill – Fri & Sat
Posey Hill, built around a father daughter trio, is a beautiful Americana blend of bluegrass, old-time and contemporary acoustic music.  Featuring enchanting vocals and tight family harmony back by the right blend of acoustic instruments, they are sure to please any crowd.  They draw their material from a wide range of sources including the Carter Family, Bill Monroe, Paul Simon, Kasey Chambers and Emmylou Harris.  Some of their more popular songs are Posey Hill originals.  For that "Sweet, Lonesome Sound", Posey Hill is hard to beat.
3 Day Pass    $55.00
Thursday Evening   $20.00
Friday All Shows   $20.00
Saturday All Shows   $20.00


Limited Seating. No Reserved Seats.
Advanced Ticket Purchase Recommended
PLEASE DO NOT CALL FOR TICKETS.
YOU MUST MAIL A CHECK. NO CREDIT CARDS.
Mail Check To:
Mountain View Bluegrass Assoc., Inc.
17221 Highway 9
Mountain View, Arkansas 72560
Call 870-269-2542 or 870-269-2704